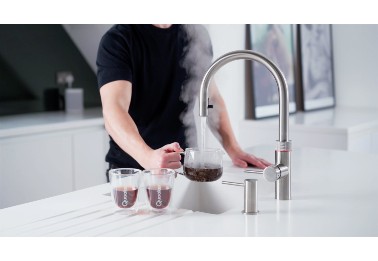 Quooker
The new kitchen must-have. Quooker: the tap that immediately dispenses boiling water. Tap on the worktop, tank underneath. A 100% Dutch invention taking over the world. Save time every day with the boiling-water taps from Quooker. Boiling water from the tap at the touch of a button. Safe, economical and a must-have in your kitchen.
Boiling water always available. Very useful from early in the morning to just before bedtime. Because you can do all this with a Quooker.
No kitchen is complete without its Quooker.
Browse by collection: Classic Fusion, Classic Nordic, Flex, Fusion, Nordic