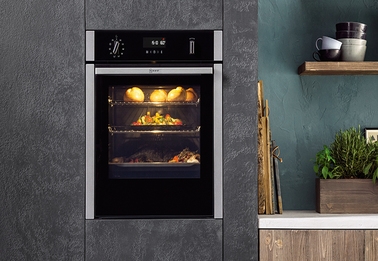 Neff
Founded in Germany in 1877, NEFF has a long history of producing kitchen appliances. In 1949 they introduced an oven with two separate heating compartments and in the 1950s the microwave oven and the induction hob were put on sale. NEFF was also the first company to fit their ovens with thermostats to prevent overheating.
Today, NEFF manufactures everything you might need for the kitchen: fridge freezers, washing machines, dryers, dishwashers and of course ovens and hobs. NEFF also offers a wide range of small appliances such as coffee machines and food processors.
NEFF is particularly well known for its ovens, thanks to innovative features such as Pyrolytic self-cleaning, and iconic Slide&Hide, allowing for effortless opening and closing of the door.